Companies need many things to thrive in fair times and survive in rough. The beliefs, culture and policies are the roots that are formed over time. People nurture the roots with proper attention to details while maintaining the mission of the company. Naturally, some are better at this than others and then some are just off the charts. To give the best the respect they deserve it shall be that they are never forgotten and their stamp on the company lasts for decades after their retirement.
While Alliance has had many employees since its inception of 1991, many are worthy of mentioning, but only the special are on this page of fame. While work ethic, determination, the drive to get it right, loyalty and the consistency are the major prerequisites, the acid test is:
Can the history of Alliance be written without this person?
Semmie Hudson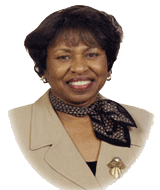 Semmie was born in Natchitoches, Louisiana to Edith and Rev. Albert G. ("AG") Roberson. She grew up as proverbial preacher's daughter remembering the lessons from her parents and elders. After school she moved to San Francisco to settle near her some of her relatives. She gained employment as a telephone operator, got married and had a son, Larry. Her husband passed away unexpectedly and she decided to move to Houston to join up with the rest of her family. By then AG had become the pastor of the Little Union Missionary Baptist Church, a title that her son would eventually carry after AG's passing in 1995.
Upon settling in Houston, Semmie entered into the plumbing industry by working for Whites Nipple Manufacturing which was a division of Seminole Pipe & Tubular. There she learned the art of taking an order over the phone that was 200-300 line items long under five minutes with complete accuracy. It took an ear for detail and laser focus to dictate those orders while the buyer on the other end is talking at warp speed. This was the 1980's version of EDI. She excelled in that position and was then ready for management. In 1983, a position opened up at a sales agency where she met Alliance's president, Cary Ostera when he was in his late teens.
Their lives took temporary divergent paths, but in 1988, Mr. Ostera was at a different sales agency and Semmie was back at White's Nipples. The agency was struggling for inside sales talent to anchor its back office and Cary knew the person who could handle the job and called Semmie. After some quick small talk, she playfully scolded Cary and told him how much he was going to pay here and when she can start.
As expected, she anchored down the back office, thus freeing up Cary and the sales team. Sales grew and so did profits. The only thing she could not fix is the mis-management of the agency owner. In 1991, Cary, Semmie and a lead salesman of the agency, Del Stair, decided that they need to leave and form South Texas Sales Company. They changed the name to Alliance Manufacturer Representatives, Inc. in 1998 as they expanded the territory.
Under her watch, Alliance naturally expanded and she managed every detail. She trained all of the office staff, especially the inside sales team. Her professionalism and magic touch won over customers at a scary rate. She was able to take a furious customer that was angry at one of our manufacturers and convert them to a raving fan. She then had to wean customers off her as phone calls stacked up because they only wanted Semmie. This soon dissipated as Semmie brought the team up close to her level.
After twenty-one years of service to Alliance, Semmie decided to retire. She did make brief appearances over a few years to cover for ladies while out on maternity leaves. The impact that she made to Alliance has been immeasurable. She stands as a fine example of not only what a woman can be, but a leader, counselor and a friend.